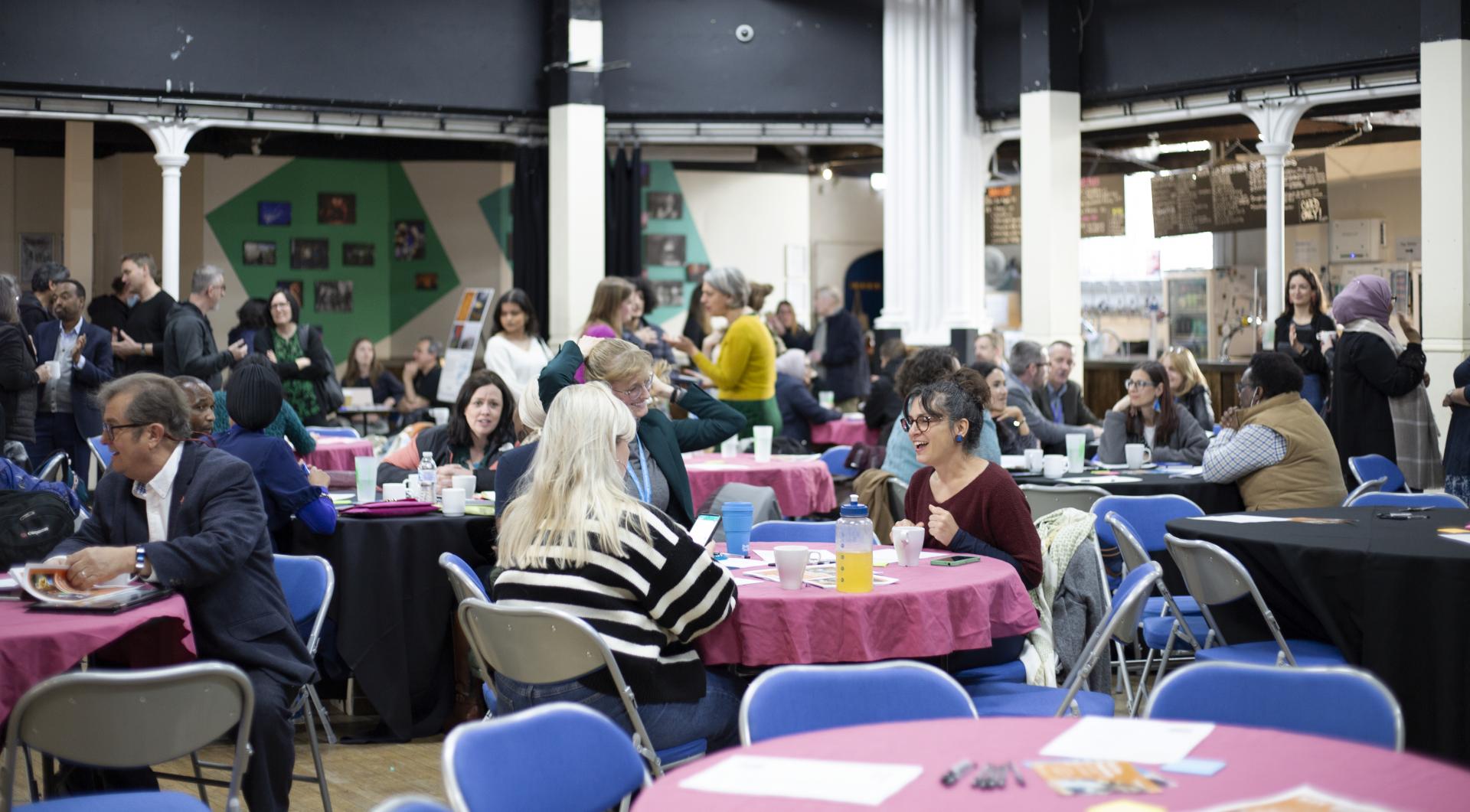 The launch of 'From Sanctuary to Opportunity'
ACH is happy to share the first in a series of annual reports delivered through the Change Makers project, From Sanctuary to Opportunity | A better future for refugees in Bristol and the West of England. Sanctuary to Opportunity, examines local and regional policy effects on refugees and identifies opportunities for positive change for better work and lives.
The Change Makers Project is a 5-year collaboration between ACH and RAMP, funded by Comic Relief, which aims to identify strategic opportunities with the wider refugee sector to influence city-level and regional strategies. To launch From Sanctuary to Opportunity, we hosted our first large in-person event since the pandemic and welcomed refugee organisations, council members and stakeholders from across Bristol.
This report is timely, as a consequence of unfolding events in Ukraine. We are now witnessing the greatest refugee crisis in Europe since the second world war. This recent development must be seen alongside the ongoing resettlement and integration needs of refugee communities from Afghanistan and Syria, amongst others. We must ensure that ALL refugees who flee war and persecution are treated equally, consistently and with respect.
The launched research report examined local and regional policy effects on refugees from these conflicts in the UK and identifies opportunities for positive economic and social change to ensure refugees could lead happier and self-sufficient lives in their new home.
As well as an endorsement of this vital work from Bristol Mayor Marvin Rees, delegates were treated to video messages of support from fellow Mayors from the international Migration Council, Mayor Giuseppe Sala of Milan, Italy and Lord Mayor Erias Lukwago of Kampala, Uganda (video at the bottom of this blog).
The event was MC'd by Sara Sharfaldien Mohammed, CEO of Bristol in Arabic TV, and included a fantastic panel discussion analysing the inequities in the current system for refugees and asylum seekers. As well as how we can work together to ensure effective integration and ongoing support for refugees who have chosen to settle in our communities and want to contribute to our economic and cultural life.
The session was chaired by Beth Wilson, CEO of Bristol Refugee Rights and speakers with both an operational background and some with lived experience as recent refugees to this country.
Our panel included:
ACH CEO, Fuad Mahamed explained in his address:
"Through Change Makers we can explore, identify and build on the good practices which already exist by working in partnership with others across the social, public and private sectors. In so doing we can develop new approaches to sustainable and constructive integration and resettlement of refugees and migrants. We believe promoting human rights and guaranteeing safety is paramount and a central plank of our commitment as a City of Sanctuary. We must also ensure that basic housing needs are met and pathways to employment and enterprise development are facilitated if we are to enable refugees and migrants to build a better future for themselves and their families here."
Mayor of Bristol, Marvin Rees added:
"I challenge all communities, new and established, to ensure migration works for all. A Local Authority on its own cannot guarantee that someone seeking sanctuary will be able to thrive in their new community. But for Bristol, we do have a corporate vision to "play a leading role in driving a city of hope and aspiration where everyone can share in its success." Read Marvin's full speech.
Following the delivery of this report, the next steps will be to explore and debate the findings with partners to co-create the Change Makers Action Plan for 2022.
We want to partner with:
People with lived experience, including refugees, community leaders, settled refugees and businesses.
The wider refugee sector in Bristol, including Bristol City of Sanctuary and Inclusive Cities stakeholders.
Employers and the private sector. We will explore opportunities to align refugee talent and potential with employer needs, within the limits of the five-year Change Makers project, 2021-2026.
Tackling these issues, and seizing these opportunities, will require the efforts of many people and organisations working in partnership wherever possible. For the Change Makers project, our task is to identify where our particular and focused efforts can be used to generate the maximum possible strategic benefit and systemic change.
As a result, we have drawn out the following three key themes from this research which will guide the work of the project over the coming year:
Building regional capacity - exploring what could be required to move from a 'City of Sanctuary' to a 'Region of Sanctuary'.
Pathways to meaningful employment - creating systemic change which can impact people's ability to progress in work over the long term.
Closing the Two-Tier Gap - The Nationality and Borders Bill represents a deliberate attempt to further extend the gap between the quality and quantity of support for refugees who arrive in the UK via a resettlement programme and those who claim asylum after arrival. We aim to use the region to maximise the opportunity that the resources, now coming through national Government, provide to support resettlement.
Thank you to Comic Relief for funding this vital work that allows us to identify opportunities for positive change for refugees in Bristol.
Interested in collaborating with us to tackle these issues?
Please contact our South West Regional Partnerships Manager, Paul Hassan - paul.hassan@ach.org.uk.